LETTER FROM MAYOR RAS J. BARAKA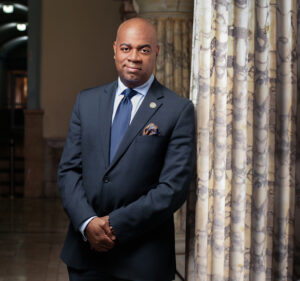 Dear Newark Family: 
Thank you for being an incredible partner in moving the City of Newark Forward! 
The City of Newark has a long and rich history as a center for the arts, fashion and design.  As my administration seeks to provide a broad span of opportunities for residents, I ask that you help us write a new page in our city's history through various modes of artistic expression.
It is with great honor that I am proud to announce Fashion and Unity Week 2023, which is a collaboration with City of Newark with Mr. Vernest C. Moore of Vissions Consultants Group. 
We will be bringing a unique experience to all five of our city's wards. The objective of the fashion shows through the city will be to identify untapped residences who are part of the fashion industry, by way of aspiring models, clothing designers, make-up artists, commentators/MCs, and talent eager to be a part of the fashion scene, as well as local small business owners.  Special committees will be formed to work on specific areas of the overall production, to allow the focus to truly be on the community and residents specifically those who love fashion and arts and we want you to be a part of this unique experience.   
Join us as we create a unique pattern of storytelling that reflects our city's history and the spirit and pulse of what it truly means to be Newark and Proud of It.  Through art and fashion, we can create much need change by being deliberate and intentionally using art to not only educate but also express the need for social action and policy changes for our people and our community. 
Moreover, in Newark, we are creating a city where all residents work collectively to achieve the right to have the power in the decisions that affect them and shape their future and where youth are empowered to become future leaders. 
Thank you so much to all of our sponsors, whom all of this could not be possible without.  Your investment in our City's future has not only enhanced our community but has changed so many lives! 
Our City welcomes all of our amazing supporters and encourages you to love our City as much as we do!  Come shop at our stores, eat at our restaurants and most importantly explore and enjoy the magnificent fashion that will be on display. 
In close, Newark is art! Come be a part of history, join us for fun, fashion, and be a part of shaping our city's history. 
Forward ever, backwards never!
NEWARK FORWARD minus VIOLENCE equals FASHION
AND UNITY WEEK 2023