NEWARK FASHION FORWARD & UNITY WEEK
BLACK TIE OPENING RECEPTION KICK OFF
Salute to the Icons and Legends in the fASHION Industry
"SPECIAL TRIBUTE TO NEWARK'S OWN EMILY MILES"
Sunday, September 17, 2023
6:00pm – 11:00pm

TICKETS: $125.00
*AVAILABLE 8/14/23 ON EVENTBRITE
The Newark Museum of Art
49 Washington Street, Newark, New Jersey 
 The Opening Black Tie Cocktail Reception will recognize, highlight and salute some of the many individuals who have made a major impact to the fashion circle in Newark, NJ. over the past 50 years.  During the evening we will also pay homage to those from the fashion community, who are no longer with us.
We will be recognize individuals in the following areas:
 Fashion Show Producers, Designers, Models, Commentators, Make-up Artist, & Photographers.
 
There will be a special performance by, American R&B vocalist Keith Washington.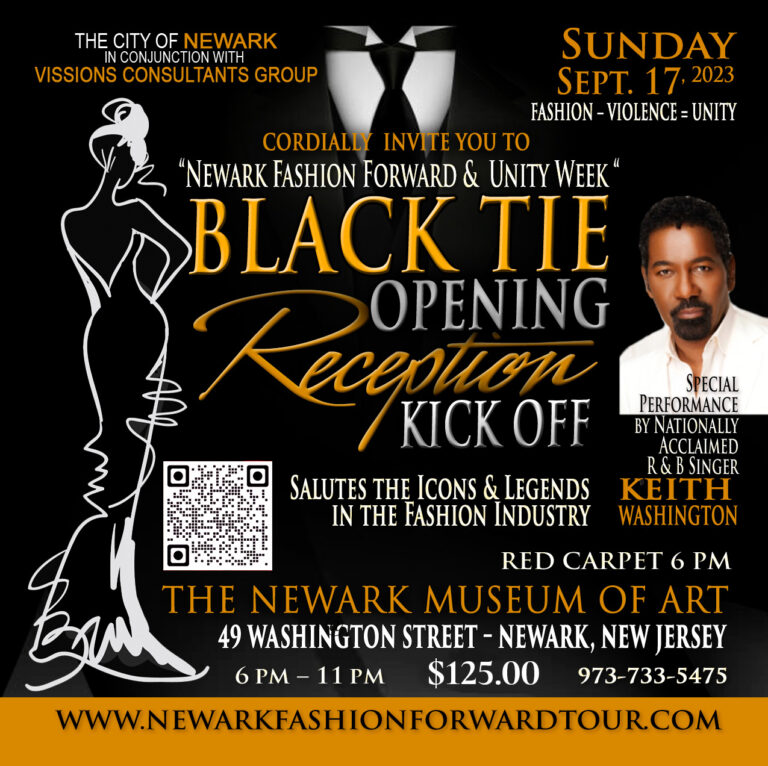 ___________________________________________________
YOUTH EXPLOSION – TEEN SUMMIT & FASHION SHOW
Tuesday, September 19, 2023
10:00am – 3:00pm SUMMIT

teen Summit Fashion Show
6:00pm – 9:00pm
Arts High School
550 Dr. Martin Luther King Blvd.
The purpose of the summit is to empower young individuals interested in the arts, specifically in the realm of fashion and design, and attend a Newark based high school. Our goal is to expose Newark's youth to various career opportunities such as fashion design, commentary, production, modeling, make-up & beauty, illustration, and stage management. Through this day long summit, our youth will learn the logistics of business, and how to work toward their goals.
There will be a group of panelists to open the summit with an introduction, and basic Q & A. The students will separate later into specific breakout groups before and after lunch.

This event is for high school students who are currently either in,10th grade sophomore, 11th grade junior, or 12 grade senior.

We are looking for 6 – 8 teenage designers (who currently sew and design clothing) to be a part of the fashion show. 
Registration will conclude: Friday, August 25th Please register on the website: newarkfashionforwardtour.com
Students from the following schools can apply:
American History High School
Arts High School
Bard High School
Barringer High School
Central High School
Eagle Academy for Young Men
East Side High School
Malcolm X Shabazz High School
Newark Vocational High School
Newark School of Data Science & Information Technology
Newark School of Fashion Design
Newark School of Global Studies
Science Park High School
Technology High School
University High School
Weequahic High School
West Side High School

  Tickets for this event will be free and available on Event Brite 9/1/23.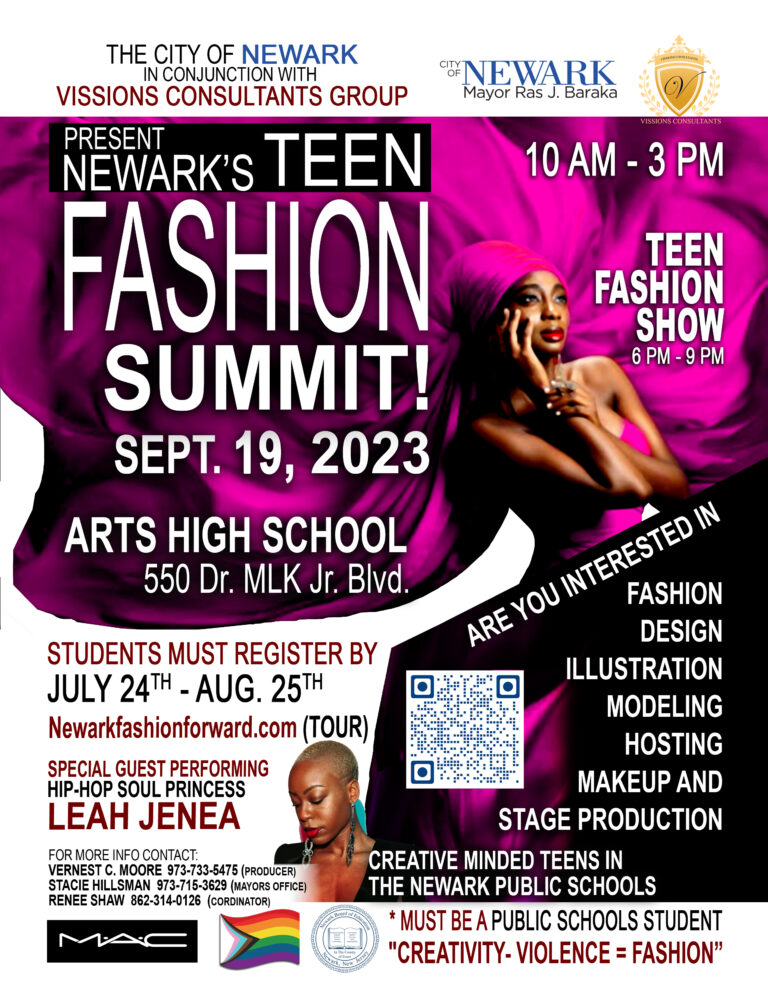 __________________
FACE TO FACE
"An Evening With The Beauty & Skin Care Masters "
Wednesday September 20, 2023   6:00pm – 10:00pm
"DUE TO POPULAR DEMAND, THIS EVENT IS FREE"
(2 TICKETS MAXIMUM)
Newark Symphony Hall – Terrace Ballroom
1020 Broad Street. Newark, New Jersey 07102
FACE TO FACE
"An Evening With The Beauty & Skin Care Masters "
Wednesday September 20, 2023, 6:00pm – 10:00pm $25.00 fee
Newark Symphony Hall – Terrace Ballroom 1020 Broad Street. Newark, New Jersey 07102
"Techniques for skin care and beauty – How to maintain great skin as well as make-up tips"
This event will be led by some of the top beauty and skin care individuals in the industry. The session will advise and demonstrate how to help care for your skin properly.
Beauty make-up tips will be given, along with model demonstrations. This will be a great evening for those seeking to maintain great skin, as well as to learn the latest beauty tips, from those on the front line.
Products will be available for purchase. There will be music, and lite refreshments.