City of Newark Fashion Forward Tour
Newark Fashion Forward Tour is a city-wide event that will feature the residents who reside in the five wards within the city. Highlighting the talents of each ward will allow us to bring to the forefront, the fashionable, artistic individuals who make up the uniqueness of the city.

We're excited to have the participation of the LGBTQ + community and encourage those interested to be a part. We are adding to the many legendary Bricks in the city of Newark and will build new bridges to connect the community and the fashion world as one, thus taking the city of Newark back to being recognized as one of the leading Fashion Mecca in the world!

Make sure you register during your ward's registration time frame, to be a part of this historic event!

You MUST live in the ward, you would like to participate in. Each of the five wards will have it's own individual fashion show.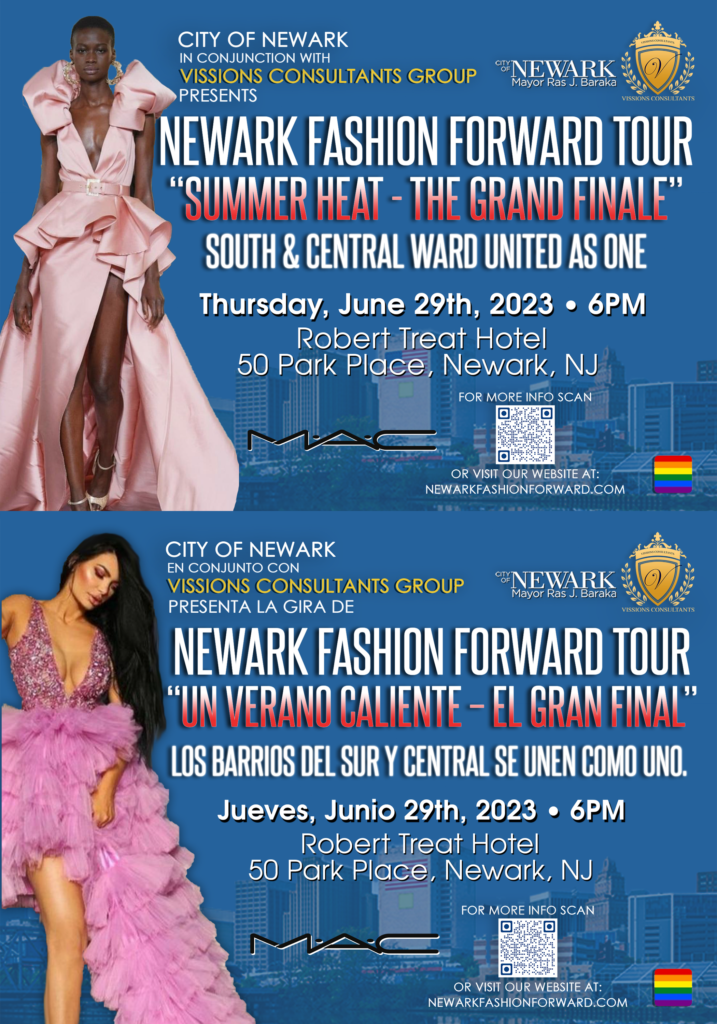 Fashion Show I - EAST WARD
HONORABLE Michael J. Silva, COUNCILMAN
973-733-3665
Sunday, October 30, 2022 5:00pm – 9:00pm
The Sports Club Portuguese
55 Prospect Street, Newark, NJ
THANK YOU FOR SUPPORTING THE NEWARK FASHION FORWARD EAST WARD SHOW.
PLEASE VISIT GALLARY PAGE TO VIEW HIGHLIGHTS FROM THE SHOW.
Fashion Show II - WEST WARD
HONORABLE DUPRE L. KELLY, COUNCILMAN
Thursday, December 22, 2022 6:30pm – 10:30pm
THANK YOU FOR SUPPORTING THE WEST WARD WINTER WONDERLAND SHOW.
PLEASE VISIT GALLARY PAGE TO VIEW HIGHLIGHTS FROM THE EVENT.
Fashion Show III - NORTH WARD
HONORABLE ANIBAL RAMOS, COUNCILMAN
Friday, March 31, 2023 6:30pm – 11:00pm
Fashion Show iV -
CENTRAL WARD & SOUTH WARD
UNITED AS ONE
Honorable LaMonica McIver, Council President
Honorable Patrick Council, Councilman
Thursday, June 29th, 2023 6:30pm – 11:00pm
**** REGISTRATION PERIOD:
4/24 - 5/15
"NEWARK fashion FORWARD & UNITY WEEK"
THANK YOU ALSO FOR THE SUPPORT OF THE COUNCIL MEMBERS AT-LARGE
HONORABLE C. LAWRENCE CRUMP
HONORABLE CARLOS M. GONZALEZ
HONORABLE LUIS A. QUINTANA
LOUISE SCOTT-ROUNTREE